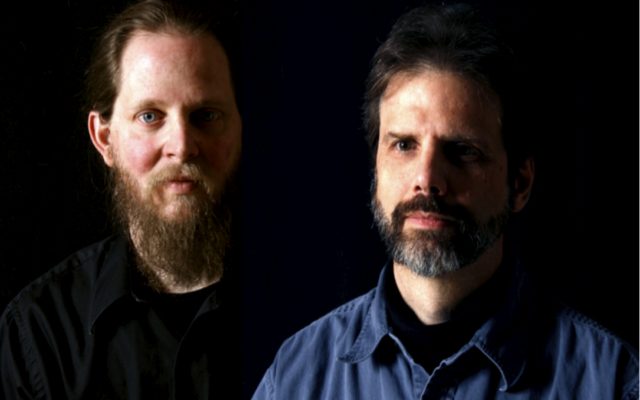 OUR CORE
Professor Moses
     – keyboards, vocals
Bobby Clark
     – guitar, vocals

Photo: Prof. Moses (l), Bobby C (r)
Professor Moses and Bobby Clark are our founding members, our band leaders, the heart of our rhythm section, and our primary vocalists. They're also our songwriters and arrangers. The Prof. and Bobby C. both have years of experience performing in a variety of bands, playing a wide range of musical styles, including jam band (think Grateful Dead, Allman Brothers, Traffic, etc.), classic rock, blues, vintage jazz, Motown, New Orleans, and early R&B.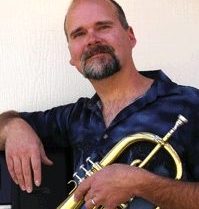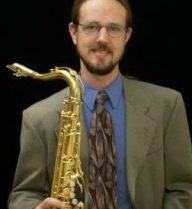 THE EMERALD CITY HORNS
Larry Lagerberg
     – trumpet, flugelhorn, vocals
Jeremy Wendelin
     – saxes, flute, vocals

Photos: Larry (l), Jeremy (r)
Our horn section brings together a remarkable pair of master musicians. Larry Lagerberg's bright, passionate, and sweetly melodic horn lines routinely blow people's socks off … while his rich, soulful vocals often leave them speechless. As a solo artist, his three original jazz CDs have received airplay across the country and in Canada. Meanwhile, Jeremy Wendelin's fiery solos are quite amazing—and yet, he's always in the sweet spot, ensuring the group's sound is greater than the sum of its parts. He has honed his craft played in a wide variety of settings, including with national jazz artists Ray Brown, Poncho Sanchez, and Art Farmer.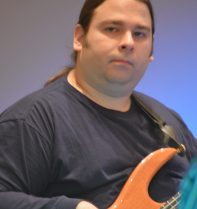 DRIVING THE RHYTHM
Dave Weinand
– bass, vocals
Deon Kuhl
– drums, vocals
Tony Antonio
— drums

Photo: Dave (l)

Dave Weinand, Deon Kuhl, and Tony Antonio bring a lot of passion and extensive experience to the rhythmic engine driving our sound. Dave's creative bass lines provide a steady foundation for every song in the stylistic mix that makes our shows so exciting. His versatility comes from years of performing in Denver, all over Colorado, and in surrounding states. Deon and Tony share the drumming duties, and each of them delivers compelling grooves that get people on their feet and dancing.